Profile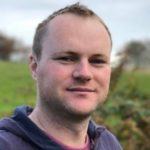 Graham Cullen
Drinking coffee and listening to classical music while updating my profile!
Curriculum Vitae
Education:

Oatlands Secondary School (Leaving Certificate 2002)

Qualifications:

2:1 Honours Degree in Mechanical Engineering (2009), 1:1 Masters in Mechanical Engineering (2012), Postgraduate Diploma in Professional Engineering (2015)

Work History:

Intern Engineer in Resource Analysis Department at OpenHydro (April - August 2013)

Current Job:

Oceanographic Engineer with TechWorks Marine (Sept 2013 - Present)

Employer:

TechWorks Marine
Favourite thing to do in engineering: Find problems and solve them

About Me

I am a Mechanical Engineer working in the Marine Science Industry. I design the physical part of systems that collect data about the sea.

Read more

I am from Dun Laoghaire in Dublin. I currently live in Co. Wicklow with my Fiancé Anna, who is from Latvia. We attend dance lessons weekly (Ballroom, Tango, Cha Cha Cha among others). I am also learning to speak Russian.

I am a Lifesaving Instructor and Treasurer of Monkstown Lifesaving Club (which I have been a member of since I was 3 years old). I teach lifesaving once a week to students from aged 5 to 105. My favourite part of lifesaving is Beach Lifesaving Sport and I run classes in the Summer for students aged 12 and up. Here is a picture of me with the blue racing board about to run into the sea at the start of the Board Race at the Mountbatton Beach Lifesaving Competition last Summer.

So I am very happy that I was able to merge my lifelong passion of being in the water with my career, working in the marine science industry.

In my spare time I play video games (One of my favourite is Minecraft) and board games (I especially like strategy games) with my brothers and friends. I also spend a lot time managing my Fantasy Premier League football team! I do need to get back into Surfing and Hiking/Camping…

My work

Oceanographic Engineer - We measure the ocean!

Read more

As an Oceanographic Engineer I am mainly focused on the physical parts of the sea (waves, water flow speed and direction, water temperature, water clarity, creating maps of the bottom of the sea). It is different from a Marine Biologist who is mainly focused on marine life (dolphins, sharks, jellyfish, seaweed).

I work on a lot of different projects:

Dublin Port – Alexandra Basin Redevelopment (ABR) Project, to make it possible for larger ships to come into the harbour they are making the harbour deeper by using a giant hoover to suck up the sand and dirt at the bottom of the harbour into a boat. The boat then travels out in to Dublin Bay and dumps all the sand and dirt into the water. Our job is to monitor the environment at the dump site by measuring the amount of sand and dirt floating in the water. We get live data sent from our 4 buoys to our office every 15 minutes. If the levels of sand and dirt floating in the water get to high the Captain of the dredge ship automatically gets a text message telling him to stop dumping operations. My part of the project was to make sure all the computers, batteries, solar panels, antenna and scientific instruments fit on the buoy where they needed to go. Here is a photo of one of our buoys:

I also collected underwater video using our ROV, of a wastewater treatment plants outfall pipe in the sea to make sure that it was still functioning properly after years of operation. Here are some pictures I took of some of the rubbish and some of the marine life that was on the bottom of the estuary:

My Typical Day

As I work for a small company, I don't have a typical work day. Everyone in the company has to do a bit of everything!

Read more

I suppose the most fun part of my work is going on operations at sea to deploy/recover or carry out maintenance on scientific buoys and seabed frames. The part of my work that most relates to my college degree is designing mounting brackets for scientific instruments. I also do a lot of data processing and analysis, mainly statistical analysis of water speed and direction, and wave heights for the renewable energy industry (tidal turbines, wave energy convertors and offshore wind turbines).

I also drive the company boat and pilot the ROV (Underwater Remotely Operated Vehicle). The main qualification for being an ROV Pilot – be able to look at a computer screen on a boat that sways from side to side without getting seasick!

Our newest gadget that we have at work is a 3D Printer (Ultimaker 3). Some of the things that I have printed with it are gripper jaws for our ROV so that we can grab on to stuff under the sea, a lot of brackets for mounting cylindrical scientific instruments to flat metal plates and even replacement parts for the office dishwasher in the kitchen!

What I'd do with the money

I would use the money to donate 3D Printers and 3D printing filament (plastic) to a local school or library.

My Interview

How would you describe yourself in 3 words?

Honest, strategic, logical

What's the best thing you've done as an engineer?

Watching the Sun rise over the Cliffs of Moher from a boat in the water below was fairly epic

What or who inspired you to become an engineer?

I suppose that I was always interested in drawing and designing things so I applied for college courses that involved drawing and designing, and I ended up with Mechanical Engineering, which I am really happy about now!

What was your favourite subject at school?

Technical Drawing

What did you want to be after you left school?

Architect

Were you ever in trouble at school?

A lot - mostly in Primary School

If you weren't an engineer, what would you be?

Secondary School Maths/Physics/Computer Teacher or a Swimming Teacher

Who is your favourite singer or band?

Depends on my mood, can range from Punk Rock (Paramore) to Classical (Grieg). I really like how classical music tells a story, it's beautiful, have a listen to Flight of the Bumblebee!

What's your favourite food?

Chicken Curry with Fried Rice

What is the most fun thing you've done?

Catching Waves! Going to the new Volcano Bay water park in Universal Studios Florida.

If you had 3 wishes for yourself what would they be? - be honest!

Be happy, raise a family and contribute something useful to humanity

Tell us a joke.

To the optimist, the glass is half-full. To the pessimist, the glass is half-empty. To the engineer, the glass is twice as big as it needs to be.

Profile Image

Work photos:

Here is my work that most relates to Robotics!

My degree thesis was on a Ball and Beam System:

You can watch a video of the system in action here!

The Ball and Beam System uses an ultrasonic sensor to detect the balls position and a stepper motor to both measure the angle of the beam and to rotate the beam. Matlab (Simulink) was used in combination with DSpace (www.dspace.com) to control the system.

In the video you can see the ball changing position to a new location on the beam in response to a step change input using the graphical user interface. Next an external disturbance is applied to the system (pushing the ball with hand) and the system responds by tilting the beam to bring the ball back to it's original position.

This type of control system is used in airplanes to keep the plane level during turbulence.

3D Printing:

We have an Ultimaker 3 3D Printer in the Office and I have an ANET A8 3D printer at home.

The Ultimaker 3 is very expensive and is ready to use out of the box. It has two extruders meaning you can print with two different colours or you can use a separate support material such as PVA Glue for objects that have overhangs. The Ultimaker 3 also levels the build plate automatically. Things that I print for work include parts for our ROV, brackets for mounting scientific instruments, a scaled down model of our seabed frame and cases for electronics components.

The ANET A8 is relatively cheap at approximately €160, but you have to build it and you have to level the build plate manually. It took me about 10 hours to build it on my own and if you are building a 3D printer I would advise you to get help from a parent or a teacher as you will be working with electricity, moving parts and very hot parts (The nozzles go over 200°C during printing). Things that I have printed at home include parts for my 3D printer, model figurines, a sugar pot lid (with a slot for a spoon) and replacement watch frame.

Underwater Remotely Operated Vehicle (ROV):

We have a small Videoray Pro4 ROV with Blueview Sonar and Manipulator Attachment in work. The main automatic control parts of the ROV are the Auto-Depth and Auto-Heading settings. This means the ROV will automatically stay at a water depth that you decide and will face in a direction that you decide, and if the movement of water moves the ROV the thrusters will turn on automatically to reposition the ROV to the depth and direction that you decided.
---
---
---